Invisalign vs. Braces: Which Is Better For You?
In the past, traditional braces were the only option available if you wanted to straighten your teeth. Braces are still around, and they are excellent for giving you or your child a beautiful smile while also correcting bite and alignment problems. They even have modern features such as discreet, tooth-colored brackets. Today, patients can also choose Invisalign®, a removable and virtually invisible means of correcting malocclusion. The question of which method is better for straightening your teeth will come down to several factors, such as the amount of correction you need. If you are considering Invisalign vs. braces, Dr. Byron Nordhus and his team at Nordhus Family Dentistry in Wichita, KS, can help determine which treatment is right for you.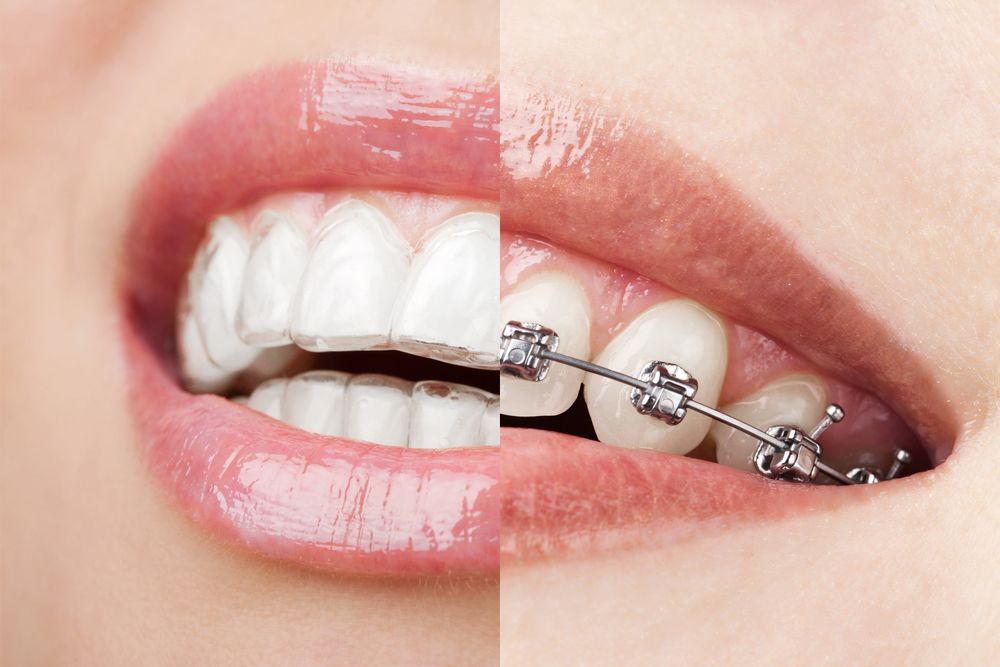 The Hardware
Braces involve the use of metal brackets attached to the front surfaces of the teeth. They are connected with a wire, which is tightened and adjusted over time in order to straighten your teeth.
Invisalign treatment involves using a series of clear aligners that fit over your teeth. Each tray is worn for about two weeks before the patient begins wearing the next one in the series. Because the trays are clear, they are virtually invisible and usually not noticeable to those around you.
Comfort
Braces are an effective and time-tested solution, but the fact is that in addition to any discomfort that occurs as a result of a new adjustment, the hardware can irritate the soft tissues of your mouth. While Invisalign may cause mild discomfort when you switch to a new tray, the smooth plastic is designed to avoid irritation.
Convenience
Invisalign has the upper hand when it comes to convenience. Because the trays are removable, you can brush and floss as you normally would. You can also eat any foods you like. Braces, on the other hand, require great care when brushing and flossing in order to thoroughly clean away all debris and avoid damaging the hardware. Meanwhile, foods that are especially hard, sticky, or chewy are off limits until your treatment is complete.
Candidacy
Invisalign can treat many of the same issues as traditional braces, including an underbite, overbite, crowding, and wide spaces. However, traditional braces are often the best way to correct more complex issues. Both treatment options require a certain amount of commitment and responsibility on the part of the patient. Braces require special care when brushing and flossing, and certain kinds of foods must be avoided for the duration of treatment. Although Invisalign is simpler in both respects, patients must take care to wear their aligners for at least 22 hours a day and avoid misplacing the appliances during non-use.
Treatment Timeline
With Invisalign, the course of treatment can take anywhere from six to 18 months depending on the severity of your problem. Traditional braces can take two to four years.
Contact Nordhus Family Dentistry
Nordhus Family Dentistry makes taking care of patients the top priority. We want all of our patients to feel like family. We offer comprehensive general, cosmetic, and restorative dental care to patients of all ages. We accept most insurance plans and most major credit cards. We also accept CareCredit® financing. Send us a message online today to request an appointment or call (316) 778-6404.