Are your otherwise healthy teeth the source of self-consciousness due to minor cosmetic blemishes?
Dr. Byron J. Nordhus offers veneers, a cosmetic treatment that can hide these imperfections and make your smile unforgettable.
Read on to learn why veneers are becoming a popular option for patients in Wichita and West Wichita, KS...
A Versatile Treatment
Few cosmetic treatments can address the wide array of cosmetic problems that veneers can. Whether you have a tooth that is discolored, chipped, cracked, misshapen, or small, our esteemed dentist, Dr. Nordhus, can customize a cosmetic treatment using porcelain veneers to brightens your smile.
Beautiful Results
There's a reason that celebrities and models turn to veneers to deliver dramatic cosmetic results. Advanced cosmetic dentistry techniques make veneers look completely natural while giving your smile a dazzling upgrade. Dr. Nordhus can give you results that make it hard not to smile!
Improved Self-Image
Life is too short to live with insecurities about the appearance of your smile. Numerous studies have described how important our smiles are. An attractive smile conveys youth, confidence, and beauty. Whether you are pursuing career advancement, personal fulfillment, or a new romantic relationship, a beautiful smile is a great place to start.
A Lasting Solution
This dental solution can last for well over 10 years with proper care. Porcelain has stain-resistant properties that allow your smile to remain white. Patients can add to the life of their porcelain veneers by refraining from smoking, practicing good oral hygiene habits, and visiting our Wichita, KS, office twice a year for cleanings and exams.
Conceal Cosmetic Concerns
Many THANKS to Dr. Nordhus and his staff for the caring, capable treatment I received during my last visit to your office! ALL of my concerns about this particularly long and extensive visit were addressed before and during the actual procedure, ie, positioning in the chair (back issues), staying numb enough throughout the entire procedure, and taking a bathroom break... to name a few. This compassionate attention to a patient's needs speaks highly of their effort and experience at making each visit as positive and productive as possible. Thanks again for a GREAT visit!

View On Google
First time visiting a dentist in nearly 20 years and had a great experience. Great staff who make you feel comfortable. Appreciate their honesty on the relative importance/urgency of what follow up procedures might need to be done. Did not try and convince me that I needed to do a bunch of additional work. Also provided up-front pricing of what those options would cost. 5 stars, will visit again.

View On Google
How Much Do Veneers Cost?
Are Veneers
Right for Me?
Candidates for this cosmetic procedure are in good oral health and desire a more attractive smile. During your cosmetic consultation at our Wichita office, Dr. Nordhus will describe your cosmetic treatment options. Our office provides multiple cosmetic treatments, and we will only recommend the one we feel is best for you. For example, if you simply require minor alterations to address chips or cracks, our dentist can place cosmetic bonding to address aesthetic issues.
If you are considering porcelain veneers, there are a few factors to take into consideration:
Traditional Dental Veneers Are Irreversible
Patients who wish to undergo veneer placement should understand that in many cases, the treatment is irreversible. While there are some minimal- and no-prep veneer options, traditional treatments will require the removal of enamel, and the treated tooth will always require some type of restoration.
Healthy Teeth Are Required
Patients should also be in good oral health. If you have any symptoms of gum disease or tooth decay, our dentist (who has practiced for over 15 years) can address those dental problems before scheduling your cosmetic procedure.
Treatable
Cosmetic Conditions
Minor Chips
Accidents happen. Over the course of many years, small chips can accumulate and blemish an otherwise attractive and healthy smile. If your teeth have suffered damage that cannot be addressed through cosmetic bonding, our office can fabricate a thin porcelain shell that can cover your teeth and transform the appearance of your smile.
Discoloration
Teeth whitening can only address mild extrinsic stains. Staining that affects the deeper layers of your tooth, such as those that result from tetracycline, do not respond to teeth whitening. If your teeth are severely discolored, porcelain veneers from our Wichita practice can brighten your teeth by several shades.
Misshapen Teeth
Veneers can make teeth appear to have a completely different shape. Dental veneers can be fabricated to enhance the appearance of small teeth or to fill gaps between teeth. If the size or shape of your tooth has been bothering you, our dentist has the right solution to enhance the tooth.
Veneers require multiple visits to our office and a treatment timeline of a few weeks. In general, here is what you can expect during this dental procedure:
Preparing Your Teeth
Before your dental veneers can be fabricated, each tooth you wish to treat must be prepared. This requires the removal of a thin layer of enamel. Dr. Nordhus will perform this straightforward procedure with your comfort in mind. Beyond local anesthesia, our office offers multiple sedation options that can help you relax throughout your treatment.
Digital Impressions
Once your tooth is prepped, a digital image of your teeth will be made. Our office uses iTero 3D digital technology that can take highly accurate digital images. Before you leave, you will be fitted with temporary veneers. The digital impression will be sent to a lab to guide technicians in creating your porcelain veneers.
Creating Your Veneers
Over the course of the next few weeks, your dental veneers will be fabricated at a trusted laboratory. Once they arrive at our office, your second and final appointment will be made. Dr. Nordhus will ensure that the porcelain veneers meet your expectations.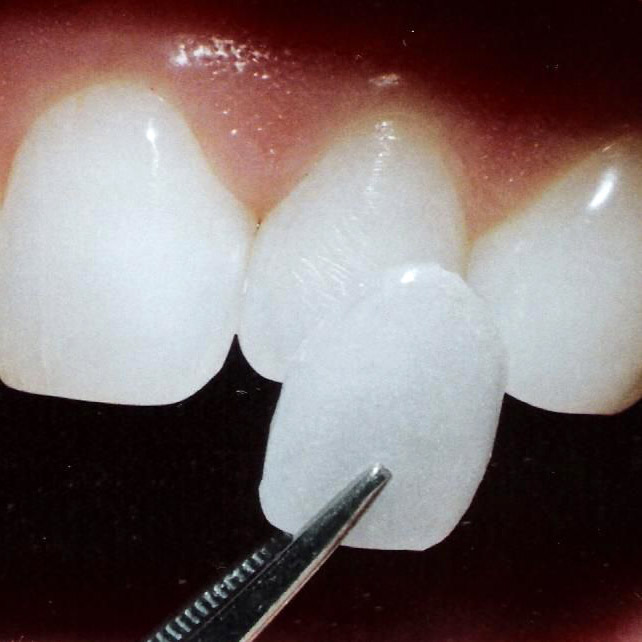 Placing Your Veneers
Once Dr. Nordhus is sure that the dental veneers are a perfect fit, he will attach them using a strong cement. Complications following this treatment are rare, but some patients report heightened sensitivity in the days or weeks following treatment.
You will be given written or verbal instructions on how to maintain your veneers. They should never be used to tear or pry open objects or packages. Doing so could cause your porcelain veneers to come loose. You will want to take steps to maintain optimal oral health so your underlying tooth structure does not develop decay.
More
Reviews of Our Practice
You will be given written or verbal instructions on how to maintain your veneers. They should never be used to tear or pry open objects or packages. Doing so could cause your porcelain veneers to come loose. You will want to take steps to maintain optimal oral health so your underlying tooth structure does not develop decay.
Can't believe I was singing on my way into the dentist office. Great experience for a person with lots of bad dentistry in my past. Nordhus has a wonderful program!!

View On Google
Great, friendly staff! So homey and clean. I felt right at home. I am looking forward to my next appointment!

View On Google